Links

Here is a list of some interesting websites around the world, which I often visit or buy the stuff I'll need. Have fun.




A great online store from Germany which offers a wide range of fashion eras and everything you need for your sewing project and they are shipping to many countries.
* * *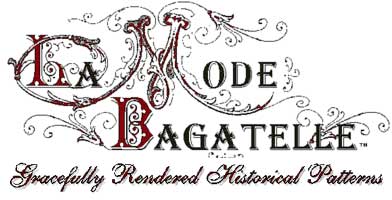 On this page you'll get the ultimate Empire-Pattern, not very cheap, but a pattern including a complete Empire warderobe, like dresses, pelissees, spencer, undergown, and accessoires.

* * *


A wonderful page with many eyecathcing dresses from 18th and 19th century.


* * *

A beautiful page from Middle Age to 20th century, they offer many informations around fashion and offer also some free patterns.
* * *

An US-Amercian pattern creator and seller for victorian fashion, some patterns are available as E-pattern.
* * *
http://agelesspatterns.com/
Another pattern seller from US, lots of patterns taken from survived original dresses, many also as E-pattern available.
If you want to put a link to my website, you are welcome to use my banner:
Declaration:
With judgment from the 12th of May, 1998 the district court of Hamburg has decided that one has to answer for the contents of the linked side if necessary with by the Ausbringung of a link. This can be prevented - according to LG - only by the fact that one expressly dissociates himself from these contents. From it resultant is valid for the links on this side and this Homepage:Ich has no influence on the creation and the contents of the linked sides. Herewith I expressly dissociate myself from all contents of all linked sides and do not adopt her contents.